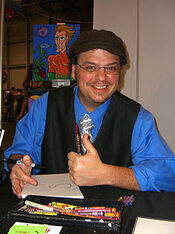 Art Baltazar (born 1968) is an American comic book artist and writer who currently works for DC Comics. Baltazar started making comic books with the his self-published comic book, The Cray-Baby Adventures. Since then, he created other comics such as Gyro-Man, Captain Camel & the Space Chicken, Jimmy Dydo, Lunar Lizard, Meteor Mite and Patrick the Wolf Boy.
Comic credits
Edit
Ad blocker interference detected!
Wikia is a free-to-use site that makes money from advertising. We have a modified experience for viewers using ad blockers

Wikia is not accessible if you've made further modifications. Remove the custom ad blocker rule(s) and the page will load as expected.