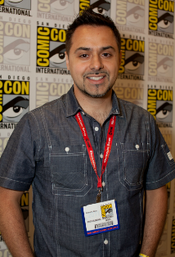 Giancarlo Volpe is an American animator, director, and producer. His resume consist of previous work on Avatar: The Lastbender, which he won an Annie award for an episode in the third season called "The Drill" and Star Wars: The Clone Wars. Volpe is currently a producer on Green Lantern: The Animated Series.
Biographical information
Edit
After graduating from the School of Visual Arts in 1997, Giancarlo began his career at Humongous Entertainment, working as an animator on the children's computer games Pajama Sam and Putt-Putt Enters the Race. He moved to Fox in 1998 to work on King of the Hill, where he was the layout artist and assistant director.
In 2008, he moved to Lucasfilm Animation as an episodic director on Star Wars: The Clone Wars where he worked directly with famed filmmaker George Lucas.
External links
Edit
Ad blocker interference detected!
Wikia is a free-to-use site that makes money from advertising. We have a modified experience for viewers using ad blockers

Wikia is not accessible if you've made further modifications. Remove the custom ad blocker rule(s) and the page will load as expected.