Ad blocker interference detected!
Wikia is a free-to-use site that makes money from advertising. We have a modified experience for viewers using ad blockers

Wikia is not accessible if you've made further modifications. Remove the custom ad blocker rule(s) and the page will load as expected.
Latest forum threads
| Topic | Last Post | Last Author |
| --- | --- | --- |
Featured article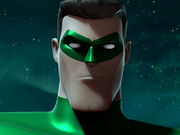 Hal Jordan, is a member of the Green Lantern Corps, who originally served Space Sector 2814. After defeating Atrocitus and foiling his Red Lantern invasion of Oa, he was promoted Honor Guard of the Green Lantern Corps. Hal Jordan is a Caucasian male with short brown hair. A dark green domino mask hides his true identity. As apart of the regular Green Lantern costume, he wears a green and black suit.
Read more >
Latest news
Create blog post
Blogs
Okay, so per a blog on the Young Justice Wiki, we have two months to save Young Justice and Green Lantern: The Animated Series. Given the simple instructions we are given; "Watch and support the show…

Read more >

And oh, I can't believe it. The hated evidence.

Read more >

|}

Here I am, a day before the debut, hyping up "Prisoner of Sinestro". This new video preview will surely make you excited. Also, remember, no page creations or updates, until the episode airs.

Read more >
See more >

our latest tweets (more)
General disclaimer
Copyrights
Green Lantern: The Animated Series and all characters, episode ideas, etc. are all registered trademarks of Warner Bros. Entertainment and DC Comics. The Green Lantern: The Animated Series Wiki is in no way affiliated with either companies, and is purely for non-commercial and personal use. Anyone is free to use information from this site, as long as you do not use that information by plagiarism or use it illegally in any way that infringes on the trademark. If you do copy text, it is requested that you provide a link to the website or web page. The operation of this website is believed to fall under the United States "fair use" copyright laws. This is a purely "fan site," and does not pretend to be official in any way whatsoever.
Advertising
Advertising on Wikia is sold by Wikia Inc., and is not an endorsement of the products by Warner Bros., DC Comics, the Green Lantern: The Animated Series Wiki or its volunteers. To report an inappropriate advertisement, please contact Wikia Inc. directly using the
contact form
.
Useful links