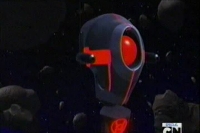 The Hunter-Killer Drones are an invention of Razer, of the Red Lantern Corps.
The Drone can fire red energy blasts and plant tracers that project a signal the Red Lantern Corps can track. One of the drones found the Interceptor and planted a tracer on its hull. Hal Jordan was unaware of the move and simply chased the drone then destroyed it. The drones fly around Shard on an automated patrol routine.
Appearances
Edit
References
Edit
Ad blocker interference detected!
Wikia is a free-to-use site that makes money from advertising. We have a modified experience for viewers using ad blockers

Wikia is not accessible if you've made further modifications. Remove the custom ad blocker rule(s) and the page will load as expected.