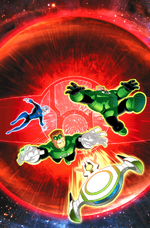 A comic solicitation information for the publisher's March 2013 library of releases, including details for the latest issue of the ongoing Green Lantern: The Animated Series comic title. It's a rundown for Green Lantern: The Animated Series Issue 12.
GREEN LANTERN: THE ANIMATED SERIES #12
Written by IVAN COHEN
Art and cover by DARIO BRIZUELA
On sale MARCH 13 • 32 pg, FC, $2.99 US • RATED E
When a Red Lantern ring finds its way into the heart of the planet Greykil, it causes havoc!
This time, the Interceptor crew needs help from Mogo!
Ad blocker interference detected!
Wikia is a free-to-use site that makes money from advertising. We have a modified experience for viewers using ad blockers

Wikia is not accessible if you've made further modifications. Remove the custom ad blocker rule(s) and the page will load as expected.