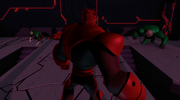 Now that GLTAS is back, we can now use our review project. Every member the community is welcome to write a review of any episode of GLTAS. Each portal to a review is in the "Reception" section of an article.
RULES
1. No foil language
2. No plagiarism. This counts as copying and pasting a review from another website and dubbing it as your own personal work.
3. A maximum of 3 images are allowed on your review. 3 AND THREE ONLY.
Everything else is really up to you. How you handle the review, the layout is all up to you. If your review violates these guidelines, the comments on your review will be locked and the writer of the review will be issued a citation by an administrator. Upon receiving the citation, the reviewer will be expected to change his or her's review to fit within our guidelines.
Ad blocker interference detected!
Wikia is a free-to-use site that makes money from advertising. We have a modified experience for viewers using ad blockers

Wikia is not accessible if you've made further modifications. Remove the custom ad blocker rule(s) and the page will load as expected.